Get High Score With Our Best IELTS Centre in Karnal - Karnal
Wednesday, 12 January 2022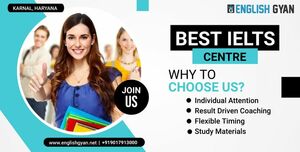 Contacts

English Gyan

+919017913000
Item description
English Gyan is the best IELTS centre in Karnal, Haryana that stands out in this line of teaching their Students by the experienced expert English Teachers. These experts understand the difficulties of the Student, in learning and Speaking English correctly by the Indian Students. So they have devised suitable methods for imparting effective training to the Students in their Classes.

Apart from their regular training methods, for making the Student conversant in English Speaking and comprehension tactics, the experts in English Gyan bestow more attention for preparing the Students to face the IELTS with confidence. That's why we are one of the Best IELTS centre in Karnal. Our experts will give suitable guidance to the Students regarding facing the IELTS Exams with proficiency par excellence. With such able guidance you will get the maximum moral support in facing the Test fearlessly.

Selecting the right Tutorial for getting trained for IELTS is highly important for success. So select English Gyan Best IELTS Centre in Karnal as your career path by clicking httpenglishgyan.net/ielts/ for Sure Success! And have any questions? Then contact us +919017913000.