Low cost business opportunities - Karnal
Thursday, 21 November 2019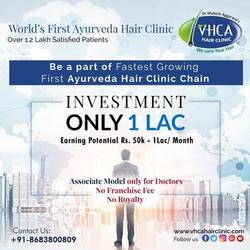 Contacts

vhca
Item description
VHCA Hair Clinic has its main office at Gharaunda (Haryana), while its franchise clinics are in various cities including Karnal, Panipat, Delhi, Gurgaon, and Mumbai. It has become a brand in the past few years and has gained the trust of hair patients. So, taking our franchise is really gonna help you out earning some profits. We are giving low price health franchise opportunities so as to help you grow easily as well as grow the brand awareness of VHCA.

Business opportunities:

Healthcare Franchise
Low-Cost Business Opportunities.
Low-Cost Franchise.
Low-Cost Business Opportunity.
Low-Cost Business Opportunities in Delhi.